The internal ISRM RF module on the newer ACCESS transmitters does not route the S.Port signal to the internal module bay or the serial port anymore. When using the internal ISRM RF the iMSB BT Smart device should not be used. 
If your radio is equipped with a PARA wireless trainer BT module it can be used to stream live telemetry data to iMSB (requires release 3.8.2 of the app). This new capability is available as an in-app purchase addition for all transmitters equipped with a PARA module. In order to use the PARA module you need to perform the following steps:
Configure Bluetooth telemetry
 In the radio hardware settings enable Bluetooth and set it to "Telemetry".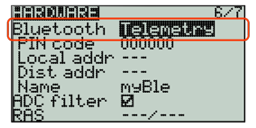 Unlock Bluetooth access in iMSB
In the iMSB app go to "Application Settings" and "Data module setup".  Select your Bluetooth device by tapping the info button.
In the configuration screen tap on the "Bluetooth access" button to unlock usage of the device (subscription based).