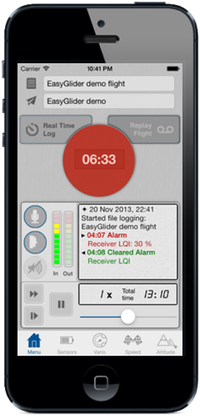 iMSB is a suite of advanced telemetry data display and logging applications running under iPhone, iPad and iPod touch. They are targeted to 2.4 GHz telemetry enabled RC transmitter systems from Multiplex®, FrSky and Graupner. It integrates a wide range of telemetry sensor available on the market.
iMSB offers a state of the art replacement for built in and external telemetry displays, including many more advanced features. Fully customisable iMSB supports several model definitions and allows tracking vital information from your model. Flight data is displayed in an easy readable form on several thematic views in analogue or digital form. iMSB not only displays real-time flight data, but is able to record and save flight sessions for later playback and analysis. It can be configured to alert when critical values are reached and provides valuable flight time statistics data. Additionally, in order to enhance safety and as modellers generally focus on their model rather than on a telemetry display iMSB fully supports voice based commands and announcements.
The iMSB applications are currently available for the following RC systems:

iMSB  M-Link is targeted for Multiplex® M-Link 2.4 GHz compatible RC transmission systems that are telemetry enabled. It supports Multiplex and third party telemetry sensors that are compatible with the Multiplex Sensor Bus standard.

iMSB  FrSky operates with FrSky OpenTX enabled 2.4 GHz transmitter systems, such as the Taranis X9D and X9E.  It is compatible with FrSky S.Port enabled receivers (X-Series) and S.Port telemetry sensors from various vendors.

iMSB  HoTT is targeted to the Graupner HoTT RC system. Transmitters and telemetry sensors compatible with the HoTT v.4 protocol are supported.
Real time data is transferred between the transmitter and an iPhone or iPad via a dedicated Bluetooth Smart interface . But even if your transmitter is not yet ready for real-time logging, you can jump start exploring the power of iMSB with the built-in demo flight recordings.